Tanzania Migration Safaris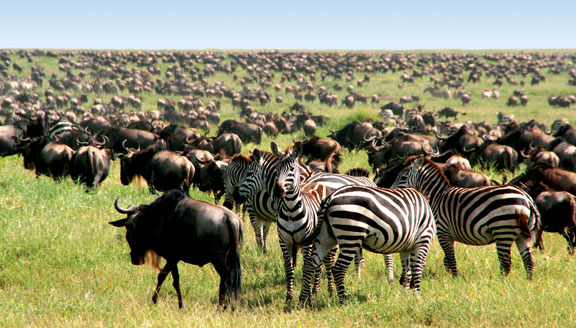 The extraordinary annual Great Migration of wildebeest and other grazing herbivores across the Serengeti-Mara ecosystem is one of the greatest spectacles in the natural world.
This is the largest Migration of Mammals on the planet and one of the most breathtaking events in the Animal Kingdom, untying the Seven Wonder's knot of the world! Enigmatically, it gathers hundreds of thousands of Wildebeests, Zebras, Gazelles and other animals in their spectacular 1000 plus mile pilgrimage off the Serengeti short grassland plains, in May or early June, annually.
They impressively move from the vast plains of the Serengeti covering hundreds of kilometers….and across the treacherous Grumeti and Mara Rivers, to the Champagne colored hills of Kenya's Masai Mara.